Various Artists
Puerto Rico Freedom Album Project
http://www.prfreedomproject.org/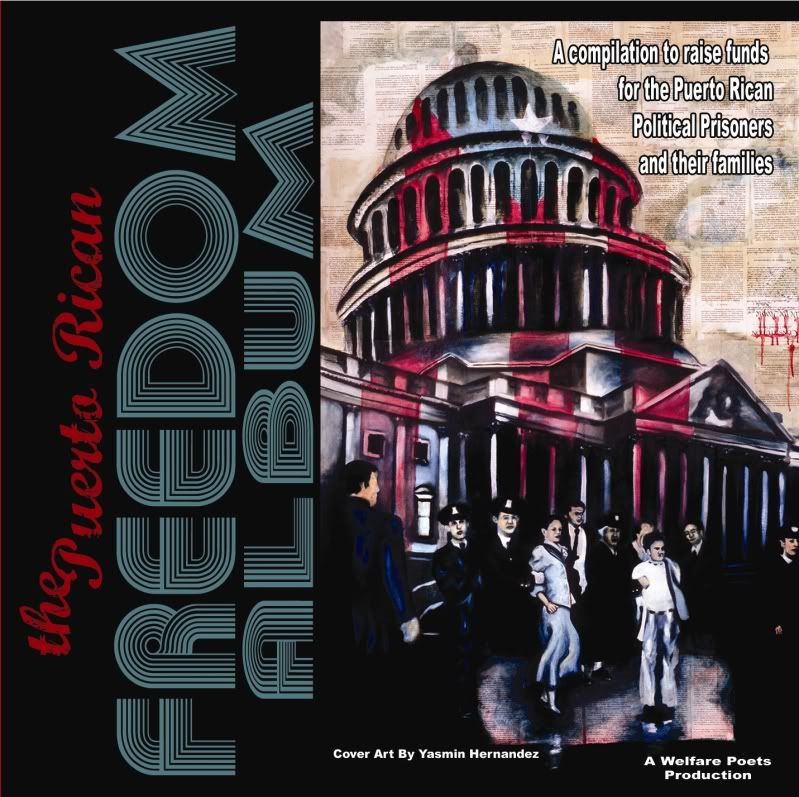 Puerto Rico is the contemporary name of an island in the northeastern Caribbean Sea, one of the four island groups of the Greater Antilles. It is inhabited by three forms of native citizens, Puerto Rican-Americans, Porto Ricans and Boricuas. The majority Puerto Rican-Americans are all those islanders, whether born and raised on the island or transplanted to the industrial shores of the U.S., are accepting of the reality afforded them. They are members of a commonwealth, a free associated state that belongs to the United States of America. They will still love gross chuletas and groove to cocolo salsa when it cannot be helped while they learn to accept progress in any and every measure. Progress from the new food groups of apples and oranges over mangoes and quenepas, the roots of Ramito for Mick Jagger and the one starred Cubano-inspired flag for the fifty stab wounded banner.
The Porto Ricans are the ten percent of the population that continue to succeed. Their glory will be statehood, the official declaration of dependent unity with massa where they are subjects of great prestige wielding badges of American citizenship. They have not lost accents but attacked them to death with the king's English, love the Spaniard labeled traditions and politely abhor the cursed harmonies of le-lo-li.
The Boricuas learned their island is truly Boriken (Borinquen) and used as a Rich Port for conquistador Europeans from Spain. Many learn that they are a blend of Moorish Jibaro, Africano and Taino roots while most couldn't be gagged strong enough to not fly the flag of Lares' child. They live youthfully in polyrhythmic unity, love Lolita Lebron and her gangsta all while they advocate the natural form of life, independence.
The Puerto Rican Freedom Album is an excellent and inspiring work by Boricuas, not just Puerto Ricans and it ain't got no muthafukn Portos on it. It is an awareness project to raise funds for our political prisoners and their families from Oscar Lopez Rivera to Carlos Alberto Torres. The beauty of the album is in the unification of the exceptional genres and subgenres of Puerto Rican music in such a focused theme that educates the listener and rekindles the fires of revolution as well as the genres themselves.
Puerto Rican Freedom has never been something advocated just because of its inevitability just as Puerto Rico's music has never been listened to as a mere confirmation of heritage. Both blend wonderfully together because both are advocated and experienced because of their complete and unequivocal beauty and rightness. Our freedom is a beautiful right just as our music has always been a right beauty. From immensely focused hardcore Hip Hop tracks to the immensely popular Latin Jazz and the roots music of Bomba y Plena, the double album is an incredible sampler of today's Boricua contributions to our genres. It is a complete work where virtually all the contributing artists are offering their most passionate and insightful lyricism on Puerto Rican history, current reality and styles.
Led by the Welfare Poets, the Hip Hop contributions dominate the double album with tough rhetoric that is historically inspired. This desire for revolution, an immediate change as a manifestation of Boricua consciousness ("For the Love of Freedom," Foundation Movement's "I'm Brown") is a true documentation of the people and has roots as runaway slaves (Siete Nieve's "Cimarron") to the Macheteros/Boricua Popular Army that have been attacked to this very day (X Vandals' "Todos Somos Macheteros"). Updated beyond the great spirits of Pedro Albizu Campos and Lolita Lebron, homage to so many wonderful Puerto Rican progressive thinkers and freedom fighters is heard track to track. Whether El David's "Libertad" building on Filiberto Ojeda Rios, BPA Leader, being killed in 2005, the lovely decima from Lourdes Perez for Isabel Rosado ("Decimas A Isabel Rosado") or the current events of Rebel Diaz' with Divino of the Dey ("QPasa"), this is a living relevant work. With just one lone Reggaeton entry failing, the Spanish language Hip Hop reps hard and at high levels. Intifada ("Alerta Roja"), Velcro ("Donde Yo Vivo"), MC Natra y Lady M ("De Vuelta A Casa") respectively have power, articulation and grace that reveal real songmakers out on the island, not mere spitters.
With Salsa monga y romantica dulling salsa and its roots music, the rejuvenating sounds here from Carlos Jiminez flute work ("El Flautista"), Alma Moyo's always vibrant Bomba y Plena ("Antonio Kongo") to Ray Concepcion's straight salsa number, "Un Tique" blend lovely within the b-boy sounds revealing a richness in PR's legacy. Just as this project reveals that there is so much more to learn and follow of our political prisoners still locked up, there is a wealth of music to be mined and explored as well.
"Que Viva Puerto Rico Libre!" has a contemporary score once again and an activist call for us all to take part in.
Nyraine
Poetic
The great debut is worthy of note when the artist is able to glimpse us into a talent that we will willingly spend the next 20 years engaged to. With Poetic, Nyraine delivers a short draft blueprint of an MC with all the tools. With an airy voice of raspy punctuation, verses with vivid cleverness and intimate charisma in every bar, Nyraine offers an enticing engagement request.
Witnessing Nyraine's growth as an MC, seeing it translate onto wax sculpting the nature of a communicating artist, this debut is not near the epitome of his talent or peak of his ability; rather, it is an immediate snapshot of burgeoning excellence. The commercial ladies track has always been a despicable enigma and can stumble even the most magnetic MC. "Poem 4 Harlem," and "So In Love" offer forgettable melodies yet nothing Nyraine spits is short of extra ordinary. His pacing is natural here as on any other track and when the sirens of "So In Love" hurt the most Nyraine drops an incredible third verse. The female persuasion is a topic he easily excels at as on the raunchy "Queen of My Castle" that is as witty and dirty as the best Ghost lyric.
Still, his poignant intimacy shared reaches an exceptional level on the acapella, "New Generation" where he aurally scribes, "Like father like son/ it's amazing how the Earth spun/ you and my mother had me when y'all was both young/ it started in the hallway with y'all first tongue/beginning of a New Generation/the day we've all been waiting, high levels of positive vibrations/ cigars burn, bottles pop, time for celebration/after 9 months of being patient/ in a room full of your closest friends and favorite music playing/ Congratulations you're about to have a Prince…" Yet he forges a classic bond with the listener on "Nys Joy," a song for his lovely mother she introduces. Easily achieving a respectful place with 2Pac's "Dear Mama" and Goodie Mob's "Guess Who," Nyraine has such a richness of detail and driving need to express his own love that it is a perfect homage.
Ultimately, Nyraine is a lyricist and for the few aware of this the last ten years, the second half of the album is the testament. With his dynamically engaging click, 7Set, members Omnipotent, Life and Scarcity inspire Nyraine's intensity as he flows, "Llama in the hoodie pocket/Conquer my thoughts with logic/the style of a prophet, kinetically modest/paint pictures for the mind/be locked up if intelligence was a crime/ but instead I'm gonna shine/bright enough to un-blind/maneuver through time/distance equals rate times time/step into my solar system and feel the energy of Allah's wisdom/ God in the flesh pay homage and respect…" With expert pausing and articulation, his verses grow in epic measures and "Architect" and "Truest" further reveal this talent.
Poetic will one day be a crate of an excellent lyricist, one we may now begin a career of engagement with for every next verse.
-Sunez